California.
It was where it was at this summer for our Big Vacation.
Lots of fun in Grandma's Backyard in Bakersfield...
A Baseball Game on the Fourth of July in LA...
Playing in the sand and chasing waves on the beaches of Santa Barbara...
And snoozing too, on the beach in Daddy's arms...
Not to mention, Visiting Time at the Mouse House
(the boys' first time at Disneyland ever!)
Summer Fun.
California.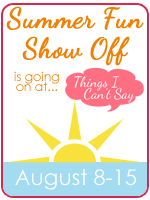 Linking up with Shell at Things I Can't Say at her Summer Fun Show Off. Join in and possibly win some cool prizes, not to mention checking out some other blogs and other fun photos of summer.